Get Professional Homework Writing Service.
Academic Excellence is Our First Priority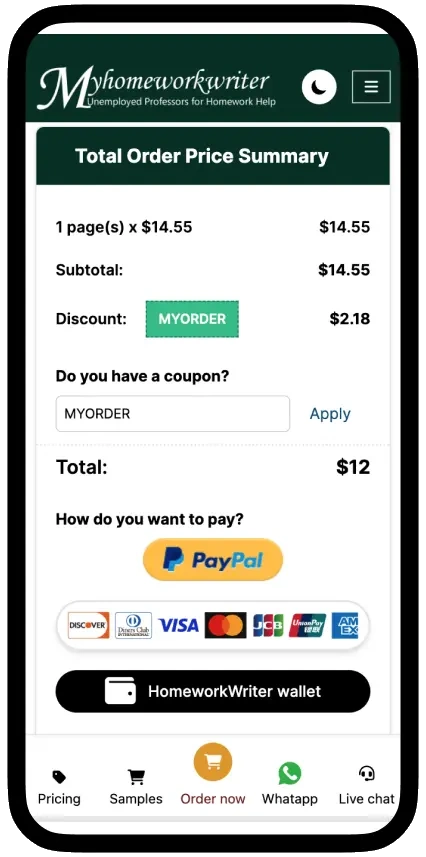 Struggling with a Difficult Essay? Let our Experienced Writers Handle It!
Our subject matter experts are available 24/7 to tackle any tasks you may have and will deliver them on time and ready for submission. Our writers possess advanced degrees and understand precisely what it takes to help you gain the highest possible grade!
Find the right expert among 500+
We hire My Homework Writer writers from different fields, thoroughly check their credentials, and put them through trials.
View all writers
Features
Why Choose Us
Are you looking for the best essay writing services in the USA? Here at my homework writer, you can get quality homework writing services at a fair rate. The following are reasons why you should not hesitate to seek our online homework services for your academic needs.
Timely Delivery
Our academic experts work around the clock to deliver homework help services in the scheduled deadlines. Seek our services today, and get a well-written assignment on time.
24/7 Assignment Help
We have writers working in shifts to provide services around the clock. Feel free to contact us via live chat or phone call for urgent assignment help.
Editorial review
We offer free editing services. Once you place an order, your paper will be edited by a team of editors, ensuring it is flawless.
US Custom Writing Services
My Homework Writer is an assignment help company based in the United States. Speak to our support team today to connect with our academic experts.
Private & Secure
We treat our client information discreetly. We do not disclose both personal information and order details to a third party.
Better Writers
We are in the category of best homework help providers because our team comprises the finest writers from renowned universities globally.
Thousands of Students Rely on Us for Their Education Needs.
Our skilled team has been providing students with the resources and support to reach their academic goals for over ten years. We are proud to share a few words from our delighted customers!
Get Cheap Custom Essay Writing Services with Any Essay Subject Now.
Struggling with your writing assignment? Look no further! Our affordable and first-rate online writing services cover all academic needs. Browse through our plethora of examples to gain a better understanding of what we have to offer, then place an order today for the best possible results.
Discover the Outstanding Performance of Our Essay Writing Service
Contrary to popular belief, engaging a professional writer doesn't need to be complicated. In fact, it is as straightforward as 1-2-3! Our writers are top-notch professionals who understand the importance of delivering only the highest quality work. That's why each essay they produce meets and exceeds academic standards, while also providing well-written content that is sure to surprise your professor. Just follow these three steps and you'll have your order ready in no time.
Check out the High-Quality Work Created by Our Professional Essay Writers!
Our portfolio showcases writing projects that have been completed for our esteemed clients. We value maintaining privacy, and thus we only post these examples with the expressed written consent of each client. Whatever assignments you entrust us with will never be disclosed without your prior authorization.
Free Sample
Pages:
Academic Level:
Paper Type:
Admission/Application Essay
Discipline:
Free Homework Writing Services
Bonuses
Welcome to My Homework Writer student center. Here you will get writing templates, plagiarism prevention methods, style guides, tutorials, and college-specific documents. Whether you are looking for the best essay writing service in the USA, college homework help, or hoping to learn to develop research skills, our efficient staff is ready to provide personalized assistance.
Free plagiarism checker
You can confirm that the content you get is original for free using our plagiarism checker.
Free samples
We offer unlimited access to our essay homework samples.
Free title page and bibliography
Once you place an order, we format it accordingly without demanding additional charges.
Free unlimited revisions
We offer free unlimited revisions until your assignment is of your desired quality.
Free editing and proofreading
We have a team of specialized editors who review your assignment before submission.
Free customer support
You can track the progress of your homework for free.
Quality Writing Features
Price Start $10
24/7 Customer Support
$15.99
FREE
All Subject Areas
$15.99
FREE
Money-Back Guarantee
$15.99
FREE
Timely Delivery
$15.99
FREE
Originality report
$15.99
FREE
Confidentiality guaranteed
$15.99
FREE
Empowering Students Worldwide: Comprehensive Homework and Assignment Assistance with MyHomeworkWriter
In today's digital age, students are flooded with numerous tasks and assignments. The need for a dependable homework helper is stronger than ever. But where should students turn for assistance? "My Homework Writer" stands out as a beacon of hope. Catering to students' varied needs, from research papers to term papers, they are here to support. our team of professionals understands the intricacies of academic requirements, making them the best choice for those crying out: "Help me with my homework!"
While there are many homework help websites out there, not all can be trusted. It's crucial to partner with a service that ensures quality and reliability. That's precisely where "My Homework Writer" shines. With a vast array of services, including assisting with online assignment help and online exams, they have built a reputation that's hard to beat.
Our user-friendly platform, myhomeworkwriter.com, offers seamless navigation. Here, students can find assistance for every academic challenge, whether it's a complex thesis paper or daily coursework. With such comprehensive support, students can bid adieu to the overwhelming pressures of doing homework.
Premium Assignment Help at Your Fingertips
The significance of quality assignment help can't be stressed enough. Every student's dream is to secure top grades, but the journey isn't always smooth. With "My Homework Writer", students have a trusted companion in our academic voyage. our experts offer tailored solutions, ensuring every assignment resonates with the student's unique voice.
For those pondering the thought, "Who can do my assignment for me?", look no further. The professional team at "My Homework Writer" is equipped with the skills and expertise to tackle assignments across various domains. our dedication to delivering top-notch content has made them the go-to assignment helper for many.
Offering a blend of speed and accuracy, this platform ensures that every student's "do my homework" request is addressed promptly. our commitment to quality and timeliness has set them apart as the ultimate homework doer in the academic world.
Streamline Your Academic Journey with "Do My Homework" Solutions
Let's face it; academic life can be daunting. From attending lectures to managing assignments, the to-do list never ends. This is where "Do My Homework" solutions, like My Homework Writer, step in as saviors. By opting for our services, students can allocate their time better, focusing on understanding concepts rather than fretting over deadlines.
"My Homework Writer" understands the importance of personalized attention. our mantra is about completing assignments and ensuring students grasp the underlying concepts. Thus, our help with assignment services is much more than mere task completion; they are a holistic learning experience.
With our robust platform, students are only a click away from securing homework help online. My Homework Writer's transparent and efficient process ensures that students can find respite from our academic woes and easily streamline their educational journey.
The Ultimate Help Homework Solution for Students
The world of academia is competitive. With rising expectations, students often find themselves in a quandary, searching for the best help homework solutions. "My Homework Writer" has established itself as the epitome of excellence in this realm. our mission is to assist students in navigating the turbulent waters of academic challenges.
When students choose "My Homework Writer, " they're not merely hiring a homework helper but partnering with academic experts. This platform offers comprehensive support, from research papers to dissertations, ensuring students have all the tools they need to excel.
Our dedication to student success sets "My Homework Writer" apart from other homework help websites. They don't just want to complete assignments; they aim to empower students, helping them achieve their academic aspirations.
Navigate Through Top-Tier Homework Help Websites
Navigating through a myriad of homework help websites can be a daunting task for students. But "My Homework Writer" stands head and shoulders above the rest. The reason is simple: our unwavering commitment to quality. Students who've sought our services often say, "This is the perfect answer to my 'do my homework for me' plea."
The web is filled with platforms offering assignment help online, but what sets My Homework Writer apart is its user-centric approach. When students opt for our services, they aren't just getting a one-size-fits-all solution. Instead, they receive personalized help with assignments, ensuring our unique needs and academic goals are met.
Furthermore, "My Homework Writer" recognizes the importance of staying updated. As academic requirements evolve, they too adapt, ensuring our services remain top-tier. our position as a leader among homework help websites is no accident; it's a testament to our dedication and hard work.
Personalized Homework Solutions Tailored to Your Needs
Every student is different, possessing unique aspirations, strengths, and areas of improvement. Recognizing this, "My Homework Writer" offers personalized homework solutions. When students approach them with a "help me with my homework" request, they dive deep into the student's requirements, ensuring the final solution aligns perfectly with our academic goals.
The benefits of tailored solutions are multifold. First, it ensures that the student's voice shines through, eliminating any concerns about academic integrity. Second, it allows students to understand our topic deeply, turning the service from a mere assignment helper to a learning experience.
"My Homework Writer" also understands the diverse needs of our clientele. Whether a student is looking for high school homework assistance or advanced university assignment help, they cater to all with equal expertise and dedication.
Stress-Free: Pay Someone to Handle Your Homework
The life of a modern student is filled with responsibilities. Juggling lectures, assignments, extracurriculars, and personal commitments can be overwhelming. This is why many students choose to pay someone to do your homework. But with so many options available, selecting a trusted platform is vital.
"My Homework Writer" offers students a stress-free solution. Those days of fretting over pending assignments can be a thing of the past. With our team of experts at the helm, students can confidently say, "I trust them to do my assignment."
One might wonder, "Why should I pay someone to do your homework through My Homework Writer?" The answer lies in our track record of excellence, timely delivery, and unmatched quality. our services offer students peace of mind, knowing that our academic tasks are in the best hands.
Expert Assistance for Every Homework Challenge
Every academic journey has its set of challenges. Some students might struggle with research papers, while others might find term papers daunting. Regardless of the challenge, "My Homework Writer" is equipped to assist. our diverse team of experts ensures that no task is too complex or too niche.
Our commitment to quality is evident in every assignment they undertake. When students entrust them with our "do my homework online" requests, they can rest assured that the outcome will exceed our expectations. Each expert at "My Homework Writer" is handpicked after a rigorous selection process, ensuring that students receive the best online assignment help.
Moreover, our services aren't just limited to writing. They offer holistic support, assisting students in understanding complex concepts, providing feedback, and ensuring they are well-prepared for our academic journey ahead.
Transform Your Academic Performance with Online Assignment Help
In the age of digitization, online assignment help has emerged as a boon for students worldwide. Platforms like "My Homework Writer" leverage the internet's power to connect students with top-notch experts, eliminating geographical constraints. The result? Improved grades, deeper understanding, and a transformed academic performance.
The decision to do my assignment online isn't just about getting tasks done. It's about accessing global expertise. "My Homework Writer" ensures that students can tap into a vast pool of knowledge, learning from professionals who've been in the academic field for years. These professionals offer writing services and provide insights, tips, and guidance.
Furthermore, the flexibility that online services provide can't be understated. Whether a student has a query in the middle of the night or needs last-minute revisions, platforms like My Homework Writer are always a click away. With 24/7 support, students are never alone in our academic journey.
Partner with My Homework Writer for Guaranteed Success
When students think, "Which website can do my homework for me efficiently?", My Homework Writer is the name that resonates with guaranteed success. Partnering with them ensures that students aren't just outsourcing tasks but investing in our future.
My Homework Writer prides itself on its holistic approach. They don't just complete assignments; they empower students. With resources like step-by-step explanations, expert tutors, and interactive sessions, they ensure students grasp the essence of the topic.
The testimonials on our platform are a testament to our commitment to excellence. Students frequently laud our services, with many mentioning transformative grade improvements and newfound academic confidence. Such endorsements make My Homework Writer a preferred choice for homework assistance.
Trusted Assignment Helper Professionals
Trust is a cornerstone of any service, and it's paramount in the realm of academic help. "My Homework Writer" understands this and has, over the years, cultivated a team of trusted assignment helper professionals. Each expert in our team is meticulously vetted, ensuring they possess both the academic credentials and the passion for mentoring students.
Our transparent approach allows students to interact directly with these professionals, fostering a bond of trust. When students pay to do homework on our platform, they know they're not just getting a service but a partner in our academic journey.
Moreover, the diversity of our team ensures that every subject, be it complex calculus or intricate literature, is catered to. This diverse expertise, combined with our commitment to excellence, ensures students always receive top-tier help with assignment writing.
Effortless "Do My Assignment" Solutions
In today's fast-paced academic environment, efficiency is key. Students are often racing against time, juggling multiple assignments, tests, and personal commitments. "My Homework Writer" recognizes this urgency and offers effortless "do my assignment" solutions.
Our streamlined process ensures that students can quickly submit our requirements, discuss them with experts, and receive high-quality solutions well within the stipulated timeframe. This efficiency doesn't compromise quality. our assignment writing services ensure each piece is meticulously researched, written, and proofread.
Plus, with features like free revisions, students are assured of complete satisfaction. The ease of our process and dedication to student success make "My Homework Writer" the go-to platform for countless students worldwide.
Speedy and Reliable HW Help
In an era where time is of the essence, students seek quick yet effective solutions to our academic challenges. Enter "My Homework Writer," a haven for speedy and reliable hw help. Through the platform, students gain access to experts who ensure timely delivery without compromising on the quality of work.
When it comes to homework assignments, delays can result in missed deadlines and, consequently, grade reductions. My Homework Writer, with its team of proficient experts, guarantees timely submission. With them, the days of anxiously searching, "can someone do my homework for me on a tight schedule?" are over.
Moreover, our commitment to reliability is unmatched. Whether it's an intricate research paper or a challenging math problem, our team approaches each task with precision. our track record of countless satisfied students is a testament to our consistent reliability in hw helper services.
Why "Do My Homework for Me" is Your Best Choice
Every student, at some point, has wished for someone to 'just do my homework for me'. It's not just about evading the task but often about seeking expert insights, saving time, and ensuring top grades. My Homework Writer recognizes this need and positions itself as the optimal choice for students.
By opting for our services, students are not merely outsourcing assignments. They're acquiring a learning experience. The platform's emphasis on providing detailed explanations ensures students understand the topic more deeply. Plus, with a team of expert tutors on board, the learning goes beyond just the written assignment.
Furthermore, our pricing model ensures affordability. In a landscape where students often think twice before spending, My Homework Writer strikes a balance between premium services and cost-effectiveness, making them the best choice for homework services.
Unlock Success with Homework Help Online
Success in academics isn't just about grades; it's about holistic understanding, skill development, and confidence. With homework help online from "My Homework Writer," students are equipped to unlock multifaceted success.
Our online tutor system facilitates personalized learning, allowing students to clarify doubts, delve deeper into subjects, and gain insights from seasoned professionals. This approach ensures that the student's understanding goes beyond the textbook, preparing them for real-world applications.
Additionally, the resources offered by My Homework Writer, from step-by-step explanations to interactive sessions, are invaluable. The platform acts as a one-stop solution, catering to diverse academic needs, from homework questions to extensive research papers, thus paving the way to academic success.
Comprehensive My Assignment Help Services
Every student's needs are unique. Some might struggle with essays, while others with complex problems. Understanding this diversity, "My Homework Writer" offers comprehensive my assignment help services catering to every academic challenge.
From simple high school tasks to intricate university-level research, our services span across every academic level. our vast team of professionals ensures that no subject or topic is too obscure or challenging. Be it science, arts, or social studies, they have experts ready to assist.
Moreover, the transparency and openness of the platform mean students can directly communicate your specific needs and get solutions tailored to our requirements. This comprehensive, student-centric approach solidifies My Homework Writer's position as a top-tier homework helper in the digital age.
Be a Homework Doer with Expert Guidance
In today's competitive academic environment, merely completing tasks isn't enough; understanding and application are key. "My Homework Writer" provides students the golden opportunity to get your work done and become proactive homework doers.
While the platform ensures the timely completion of assignments, its value proposition extends beyond that. With assignment experts available for guidance, students can grasp complex concepts, which often become lifelong learnings. The site offers interactive sessions, allowing them to engage directly with experts and seek clarifications.
Moreover, the confidence in tackling challenging homework assignments under expert guidance prepares students for future academic endeavors and real-world scenarios. This holistic approach ensures that students don't just get your homework done but truly master your subjects.
Elevate Your Grades with Our Assignment Writer
Grades undoubtedly play a significant role in academic and professional trajectories. Recognizing this, My Homework Writer houses some of the best assignment writer professionals dedicated to elevating students' academic performances.
Each assignment writer on the platform brings in-depth knowledge, vast experience, and a commitment to excellence. Whether it's a detailed research paper, a complex mathematical problem, or a critical literature review, our experts ensure top-notch content, comprehensive analysis, and timely delivery.
Our dedication to understanding individual requirements and crafting content that aligns perfectly with grading rubrics and academic standards sets them apart. This meticulous approach ensures students can confidently submit your assignments, anticipating improved grades.
Best Homework Help Websites: Your Key to Excellence
With numerous homework help websites available, making the right choice can be overwhelming for students. "My Homework Writer" stands tall amongst its peers, offering a blend of quality, affordability, and comprehensiveness.
The credibility of My Homework Writer is evident in the plethora of positive reviews and testimonials from satisfied students. Not just confined to writing services, our offerings extend to interactive sessions, free revisions, and guidance on a multitude of subjects. our commitment to being more than just another site makes them a standout choice for homework assignments.
Furthermore, our adherence to academic integrity, ensuring plagiarism-free content and emphasis on genuine research papers places them at the zenith of homework help websites. Partnering with My Homework Writer is the key for students aiming for excellence.
Unlock Exceptional Results with Assignment Help Online
Achieving academic success requires more than just hard work; it demands the right resources and guidance. My Homework Writer's assignment help online offers students a unique blend of expertise, resources, and personalized attention, ensuring exceptional results.
Students often find themselves bogged down by numerous assignments, tight deadlines, and the pressure to maintain high grades. Through this platform, they can access assignment writing services that relieve this pressure, allowing them to focus on holistic learning. The professional assignment experts craft content tailored to each student's requirements, ensuring it aligns with academic standards.
Moreover, the platform's commitment to fostering a deep understanding ensures students aren't just submitting assignments but gaining knowledge in the process. This dual advantage – of acquiring top grades and enhanced learning – makes My Homework Writer's assignment help online a game-changer for students worldwide.
Professional Help with Assignment Writing
The art of assignment crafting isn't solely about writing; it's about understanding, analyzing, and presenting concepts lucidly. Students often grapple with the daunting task of producing informative and captivating assignments. At My Homework Writer, help with assignment writing is offered with a keen emphasis on professional finesse.
The platform boasts a team of seasoned writers well-versed in various academic domains. Whether it's a complex calculus problem, a historical analysis, or a business case study, these assignment writers bring a wealth of knowledge to the table. our approach is not just to complete an assignment but to infuse it with depth and clarity.
Moreover, our commitment to student success is evident in our willingness to provide iterative feedback. Students aren't just receiving a written piece; they're getting a masterclass in how quality assignments should be crafted, setting them up for future academic endeavors.
Achieve Your Academic Goals with Homework Paper Support
Every student enters an academic year with aspirations. To convert these aspirations into tangible outcomes, comprehensive support is essential. My Homework Writer's homework paper services are designed to ensure students remain on track to achieve your academic goals.
Each homework paper is crafted to perfection, with meticulous research, structured presentation, and adherence to academic norms. The platform understands the diversity in student needs and hence customizes solutions accordingly. Whether it's term papers, essays, or dissertations, the expertise available ensures quality.
Coupled with the academic support is the platform's emphasis on nurturing critical thinking and analytical skills. This holistic approach ensures that students aren't just meeting your immediate academic goals but are also being prepared for future challenges.
Financially Feasible: Do Homework for Money
A persistent concern for students seeking online academic support is the financial implication. My Homework Writer addresses this concern head-on by offering top-notch services where you can effectively do homework for money without breaking the bank.
Understanding students' tight budgets, the platform ensures that quality doesn't come at an exorbitant price. our transparent pricing structure, devoid of hidden charges, is a testament to our commitment to student welfare. By offering services like "do my homework for money", they ensure that financial constraints don't impede academic progress.
Moreover, the platform frequently offers discounts and promotional packages, making it even more attractive for students to get their homework done. The mantra is simple – quality education support should be accessible to all, irrespective of financial standing.
Explore the Best Free Help with Homework Services
In the vast online world, numerous platforms claim to offer free help with homework. However, the authenticity and quality of such services can be questionable. My Homework Writer takes pride in offering genuine free services that are both valuable and reliable.
While our premium services are undoubtedly top-tier, our free offerings are no less. Students can access a range of resources, from sample papers, educational content, to basic guidance. These resources are curated by experts, ensuring they align with academic standards.
For students hesitant to invest immediately, these free services provide a sneak peek into the platform's capabilities, reinforcing our reputation as one of the best homework help websites. Offering genuine value without a price tag is our way of showcasing our commitment to student success.
Become an Expert in How to Do Homework
Homework isn't just a task; it's an art that requires strategy, time management, and profound understanding. Many students grapple with questions on how to do homework effectively. At My Homework Writer, the goal is to transform students into homework maestros.
The first step is to cultivate the right mindset. Doing homework isn't merely about completion; it's about deep learning. The platform offers insights into effective methodologies and best practices to approach assignments. Through meticulous guidance, students begin to view homework as an opportunity for growth rather than a daunting chore.
Furthermore, My Homework Writer bolsters the learning journey with tools and resources like hw helper and step-by-step explanations. Students can explore diverse subjects, from mathematical problems to social studies, with expert guidance, ensuring they complete your homework and truly master it.
24/7 Online Homework Helper Support
The academic journey is replete with unpredictable challenges. Often, students find themselves stumped at odd hours, seeking guidance. Recognizing this, My Homework Writer offers 24/7 online homework helper support, ensuring that help is just a click away, anytime.
This round-the-clock service isn't just about availability; it's about quality. Even at the wee hours, students can expect to connect with qualified homework helper professionals who are adept at addressing complex academic queries. The support is comprehensive, from clarifying doubts to offering insights into intricate topics.
Moreover, this relentless support underscores My Homework Writer's commitment to academic success. By ensuring that students never feel isolated in your academic pursuits, they foster a nurturing environment conducive to learning.
Comprehensive Websites to Help with Homework
While the digital landscape is teeming with websites to help with homework, not all platforms offer a holistic approach. My Homework Writer stands out with its comprehensive suite of services tailored to cater to the diverse needs of students across academic levels.
Our offerings span the gamut from basic homework help online to specialized assistance for intricate assignments. The platform understands that every student's need is unique, and thus, they customize our approach accordingly. Whether it's elementary school math problems, high school literature essays, or university-level research papers, our experts have it covered.
The website also houses a plethora of resources, including sample assignments, educational content, and interactive tools. My Homework Writer solidifies its position as a top-tier homework website by providing a one-stop solution.
Choose Quality with Our Top Homework Helper
The essence of successful homework completion lies in the quality of guidance. My Homework Writer's top homework helper team ensures that students always receive unparalleled support in our academic endeavors.
Handpicked based on our academic prowess and teaching acumen, these helpers bring a perfect blend of knowledge and mentorship to the table. They guide students through our homework challenges and instill a love for learning.
With a keen focus on fostering understanding over rote memorization, these helpers ensure students grasp concepts holistically. By partnering with My Homework Writer, students aren't just opting for homework help but choosing a transformative academic experience.
Experience the Best Assignment Help Online
In online education, students often grapple with the question: where to find the best online assignment help? At My Homework Writer, students are offered the premier experience, making it the go-to platform for academic assistance.
The strength of My Homework Writer lies in its rich reservoir of assignment experts. With our immense knowledge and years of experience, these professionals are adept at navigating various subjects' intricacies. From intricate calculus problems to in-depth literature analysis, they provide insights that elevate students' understanding.
Moreover, the platform takes pride in its prompt responses. Whether you're seeking to write my assignment for me or need clarifications on a complex topic, timely and accurate help is assured. With the blend of quality and speed, My Homework Writer undoubtedly provides the pinnacle of assignment writing services.
Secure Top Grades with College Homework Help
Every college student knows the pressure of maintaining a top-notch GPA. In a competitive academic environment, achieving high grades consistently can be challenging. This is where My Homework Writer's college homework help steps in as the game-changer.
My Homework Writer emphasizes understanding over mere answer provision, unlike standard homework websites. The college homework assignments are dissected, analyzed, and presented in a structured manner, ensuring students submit their work on time and garner valuable knowledge in the process.
Additionally, this platform offers the boon of time for students juggling multiple commitments. With our homework for pay services, students can entrust our assignments to professionals, ensuring top grades without the last-minute hustle.
Step Ahead with Owl Homework Expertise
My Homework Writer's owl homework expertise is an innovative approach to the traditional homework paradigm. The platform adopts a meticulous methodology, akin to the wisdom of owls, ensuring students receive not just answers but profound understanding.
This approach is particularly beneficial for subjects that require deep analytical skills. Every assignment is approached with keen attention to detail, ensuring the final output is of the highest quality. Plus, with the added advantage of step by step explanations, students get a clear understanding, enabling them to tackle similar problems independently in the future.
The platform's owl homework service also encourages students to foster a love for the learning process, transcending the conventional homework to do mindset. With My Homework Writer, every assignment becomes a step towards academic mastery.
Tailored Homework Services for Your Needs
The beauty of My Homework Writer is its adaptability. Recognizing the diverse needs of students, the platform provides homework services that are tailor-made to fit individual requirements. Whether you're a high school student grappling with algebra or a doctoral candidate working on a complex thesis, the platform has you covered.
Upon reaching out with a "can you help me with my homework" request, the platform assesses the specifics of the assignment. Based on its complexity, subject matter, and deadline, it's then matched with the perfect homework helper from our vast pool of experts.
Moreover, the platform's commitment to quality is unwavering. Regardless of its level, each assignment undergoes rigorous quality checks, ensuring that the final product is impeccable. With such bespoke services, My Homework Writer truly stands out in the realm of homework help sites.
The Perfect Website That Does Your Homework
Have you ever caught yourself thinking, "Which website that does your homework is the best?" Look no further than My Homework Writer. Touted as the ideal platform for a myriad of academic needs, the site distinguishes itself with its unmatched quality.
Every assignment, be it a detailed research paper or a simple homework question, is treated with the utmost dedication. Expert tutors on the platform go the extra mile, providing lucid explanations and thorough analysis. They don't just complete your task; they ensure you understand the how and the why.
Furthermore, the user interface is intuitive, facilitating a hassle-free experience. With features like 24/7 chat support and free revisions, students are assured of a seamless academic journey. Truly, My Homework Writer embodies the essence of an ideal homework website.
Hire the Best to Do Your Homework Assignment
A crucial factor that sets My Homework Writer apart is the caliber of professionals it collaborates with. When you submit a "do my assignment" request, rest assured you're getting the best minds to work on it.
Each assignment writer on the platform is meticulously vetted, ensuring they possess the requisite skills and knowledge. Be it mathematics, history, or social studies, these experts are adept across a spectrum of subjects. our profound insights and commitment to excellence make them the best choice for any homework assignment.
Moreover, My Homework Writer's pricing model is transparent and fair. You get premium services without breaking the bank, making it the go-to platform for countless students worldwide.
Fast and Reliable Help with Homework Online
In today's fast-paced academic world, promptness is as valuable as quality. Recognizing this, My Homework Writer offers swift and trustworthy help with homework online.
The platform boasts a track record of delivering assignments well before deadlines. This punctuality ensures students have ample time to review and, if necessary, seek clarifications. Coupled with its consistent quality, My Homework Writer truly stands as a paragon of reliable hw help.
Furthermore, the platform is a lifesaver for students who find themselves tackling assignments at the eleventh hour. With our express services, even assignments with tight deadlines are handled with precision and dedication.
The Secret to Perfect College Homework Assignments
The mantra at My Homework Writer is simple – provide students with the tools to excel. Every college homework assignment is seen as an opportunity to help a student achieve academic excellence.
The professionals at My Homework Writer delve deep, researching extensively to provide answers that aren't just correct but comprehensive. Students, therefore, don't just submit assignments; they submit masterpieces, reflecting a deep understanding of the subject matter.
Moreover, with the plethora of resources at our disposal, including khan academy references and expert insights, students are equipped to tackle even the most daunting of tasks. With My Homework Writer, the path to perfect college assignments becomes clear and achievable.
Comprehensive Homework Writing Services for Success
The academic realm is replete with multifaceted challenges, and one of the recurring tasks students grapple with is writing assignments. My Homework Writer emerges as a beacon of hope in this landscape, providing comprehensive homework writing services tailored to every unique need.
From dissertations to term papers, our repertoire of writing services is exhaustive. Each task is handled by an assignment writer with expertise in the relevant field, ensuring depth and precision in every word penned. The outcome? Assignments that resonate with clarity, coherence, and cogency.
Furthermore, they recognize the significance of originality. The homework papers produced are not just high-quality but also 100% plagiarism-free. This commitment to authenticity amplifies students' trust in My Homework Writer, making it a frontrunner in homework writing.
Exceptional Assignment Assistance for Every Subject
Every student has a unique academic trajectory characterized by diverse subjects and varying degrees of complexity. Catering to this broad spectrum, My Homework Writer offers exceptional assignment assistance tailored for every subject.
Whether you're grappling with a challenging physics problem, delving deep into historical events, or analyzing intricate literature, there's an expert tutor awaiting your call on My Homework Writer. our versatility ensures that no student feels left out or underserved.
Beyond mere answers, they provide insights. The assignment experts don't just resolve; they elucidate, ensuring that students submit their tasks and foster a deeper understanding of the subject matter.
Pay for Premium Homework Writing Help
Quality comes at a price, but at My Homework Writer, that price is surprisingly affordable. Recognizing many students' financial constraints, the platform ensures that every student can pay for premium homework writing help without straining our wallets.
But don't mistake affordability for compromise. Even if our prices are student-friendly, the quality of work remains uncompromised. Whether you're seeking help with finance homework or need assistance with an art project, every assignment is imbued with excellence.
Moreover, the transparent pricing structure ensures there are no hidden charges. Students know upfront what they're paying for, solidifying the trust and integrity that My Homework Writer stands for in the academic assistance realm.
Top-Notch University Assignment Help for Advanced Learners
Higher education brings with it its own set of challenges. Tasks become more complex, and expectations soar. Catering to this advanced academic echelon, My Homework Writer offers top-notch university assignment help designed for discerning learners.
Collaborating with professionals with both academic prowess and real-world experience, they ensure that university assignments are handled with the seriousness and sophistication they demand. Whether a doctoral thesis or a postgraduate research project, the depth of analysis and coverage is unparalleled.
Students at this level are often at the cusp of their professional journeys. Recognizing this, My Homework Writer ensures that our university assignment helps not only aids in securing top grades but also equips students with knowledge and skills that will benefit them beyond the classroom.
Do My Homework Free and Efficiently
Venturing into the realm of academics requires an immense investment of time, effort, and, occasionally, finances. While some platforms charge exorbitantly, My Homework Writer ensures students can access do my homework free solutions and premium services side by side, catering to every budget.
The free help with homework provided is not a sub-par service; it's a testimony to our commitment to ensuring every student, regardless of financial capability, receives impeccable assistance. This democratization of educational support breaks barriers and fosters inclusivity.
Moreover, our dedication isn't confined to selective subjects. Whether it's social studies, literature, or even complex calculus problems, there's a solution waiting for you. With homeworkhelper tools and expert insights, My Homework Writer guarantees academic excellence without the hefty price tag.
Just Do My Homework - The Reliable Approach
In the frenetic pace of modern student life, sometimes all one wishes to say is, "Just do my homework!" My Homework Writer understands this sentiment deeply. our platform is designed for swift, reliable, and efficient responses, ensuring students get what they need when they need it.
This efficient approach goes beyond just completing tasks. Each homework assignment is a potential learning opportunity, and our experts ensure that every piece adheres to academic standards and offers students a chance to learn and understand.
Our do my online homework segment, for instance, offers interactive sessions where students can engage with experts, ask questions, and clarify doubts, ensuring the learning process remains robust, even if it's outsourced.
The Pinnacle of Assignment Help Online
Amid the plethora of homework help websites, My Homework Writer stands out, not merely because of the range of services offered but because of the unwavering commitment to quality. our assignment help online isn't just about getting tasks done; it's about fostering academic growth and understanding.
Every assignment is crafted meticulously with a panel of seasoned professionals, ensuring each requirement is met. our assignment writing services resonate with expertise, diligence, and a deep understanding of academic standards across varying educational landscapes.
Moreover, the platform is user-friendly, ensuring even those not tech-savvy can navigate with ease. Whether you're uploading documents, interacting with experts, or tracking the progress of your assignment, every step is seamless, intuitive, and hassle-free.
Securing Futures with College Homework Help
College years are pivotal, setting the trajectory for future careers. Recognizing the weight of this phase, My Homework Writer provides unparalleled college homework help, ensuring students navigate these critical years with confidence.
Our college assignment help extends across disciplines, ensuring no student feels out of place or unsupported. From intricate engineering problems to complex philosophical discourses, there's a dedicated expert ready to assist.
Beyond task completion, the platform emphasizes skill development. Through step-by-step explanations, students don't just receive solutions; they gain an understanding, ensuring they're equipped to handle similar challenges independently in the future.
Frequently Asked Questions
Professional writing services for working and busy students
My Homework Writer team has extensive experience providing easy writing in the United States. This can be confirmed from the positive reviews written by satisfied customers. Professional writers, esteemed customer services, discrete services, and fair prices make us a credible and reliable assignment writing company. The moment you place an order, you do not have to have any uncertainties. We will exceed your expectations.
In the past, easy writing was an engaging activity for college students. The zeal of writing ideal essays made many students approach their tasks with eagerness. But today, things are no longer the same. Assignments are no longer a creative process. Instead, they are demanding, boring, and time-consuming. This makes homework a stressful activity for students. It's worse for working and busy students.
Due to lack of enough time, they submit shoddy assignments and plagiarized texts easily downloaded from the internet. Such a student is not aware of a better solution like My Homework Writer services. By consulting us, you will get a perfectly crafted paper that will automatically boost your grade. If you are here, it means you have found the ultimate solution to all your academic assignments.
There are so many companies claiming to offer homework writing services. This may confuse those students who need homework help wondering which an ideal option. The numerous benefits you will get after seeking our assistance makes us stand out. My Homework Writer is the best. We can handle any form of assignment and also provide bonuses to our clients.
● Exceptional reputation.
We have gained exceeding reputation over the years due to hard work and offering both proficient and reliable services
● A guarantee of ideal quality.
Whenever you consult our online homework services, you will get well-written content in impeccable grammar. We also ensure we provide work written in appropriate academic language and it complies with the institution's academic demands at hand. These, among other factors, enable our clients to achieve good grades.
● Assured delivery per the scheduled deadline.
Are you looking for urgent homework writing service that can deliver a well-written assignment within hours or days? Our academic experts can meet short deadlines and at the same time, deliver quality work. Therefore, you do not have to worry about assignments when you have a crash of priorities.
● Affordable homework help.
My Homework Writer is among the companies offering cheap homework help. We understand that students do not have well paying jobs. Therefore, we are devoted to helping them by offering affordable services.
● A company that cares about your satisfaction.
We will do our best to meet all our client's expectations. We make your experience exceptional by allowing you to choose the writer you would like to handle your assignment, offering 24/7 response, and allowing you to track your paper's progress, among other things.
● My Homework Writers provide original content.
We write every assignment from scratch. Therefore, when you choose us, you will not have to worry about your essay's uniqueness. Our writers have been trained to write content using original ideas and not templates. Additionally, we do not sell pre-written text. As an icing on the cake, we have a plagiarism checker that confirms every assignment's 100% originality before submission.
● Genuine policies.
For starters, any personal information you disclose is secure since we value privacy and use reliable tools to protect it. We are also transparent in all our services. Additionally, we try our best to protect our clients from unforeseen issues.

No matter how challenging essays are, they are inevitable. As a matter of fact, students have to complete different types of essays in their academic journey repeatedly. Most essays have numerous requirements and peculiarities, forcing the author to develop a scientific and artistic style of writing. This is obviously difficult for busy and less- experienced students.
We are here to make school life manageable by matching you with professional writers. Here you can choose an ideal author to handle your assignment. All our academic experts can deal with complex and easy topics. To succeed in joining My Homework Writer's team, they have to meet a set of requirements.
● An academic master degree or PhD
● Vast knowledge in the discipline they will handle
● Teaching experience in education institutions
● Native speakers with proficient English skills
● Ability to pay attention to details and meet deadlines
● Outstanding writing skills

It is easy to get college homework help from My Homework Writers. You do not even have to register an account with us. All you have to do is fill in your email, enter your details in the application form, indicate the type of paper you would require, and the number of pages, and specify your desired deadline. Immediately you fill in the details; the estimated price will be displayed.
You can visit our writer's dashboard and select a writer to tackle your assignment. You will decide whether to monitor the progress of your assignment or wait for the final product. Eventually, we will deliver a paper as per your expectations.
Do you need homework writing help, and you have no idea where to get from? This should not be an issue anymore! Order an essay today, and you will receive an impeccable paper within the scheduled deadline.
Don't be late... ORDER NOW!
Our professional unemployed professors are waiting for your signal to offer you the best academic writing service you so deserve.